Have you found yourself waiting for the Blackboard plagiarism report and wondering if it can detect copy and paste you made? Are you wondering how long SafeAssign takes or if the plagiarism scanner can be wrong or accurate? You are not alone, as many students worry about the same.
In this comprehensive post, we explore how Blackboard's SafeAssign works and what it detects. However, you can avoid these issues and problems by consulting expert homework help from us and worry no more. Let's delve into it.

Can Blackboard SafeAssign Detect Copy and Paste?
As a plagiarism-detecting tool SafeAssign recognizes unoriginal content through the identification of areas of overlap between existing works and the submitted assignments, SafeAssign will detect copy and paste.
Backboard can easily detect if you copy and paste content from other sources into your paper. It checks using a plagiarism scanning software called SafeAssign. Through this tool, Blackboard processes a similarity report within 30 minutes to highlight plagiarism. The report helps universities determine if students violated their policies.
Basically, Blackboard's SafeAssign uses a collection of papers from client institutions and various databases. If you copy and paste material from papers or works that are contained within it, it will detect plagiarism.
You should keep in mind that this is wrong because it is theft of intellectual property which qualifies as academic dishonesty and is punishable by law.
You should avoid committing such acts because you will fail in your papers. SafeAssign produces a similarity report for the faculty. Using the report, your instructor will determine if you violated your university's policies.
How Blackboard's SafeAssign Works to Detect Plagiarism
For further clarification, SafeAssign utilizes a text-matching algorithm that can detect exact and inexact matches between source materials and existing works versus papers that have been submitted into its database.
The Safe Assignments are compared to various sources that include:
1. The Internet
Those are the files and works that can be freely accessed by the public through ordinary search engines such as Google and Bing.
Here, you should note that papers that have been submitted through Turnitin will remain within their database and will not be freely available for the public.
This is because Turnitin is not a free plagiarism checking tool and students, together with instructors, should have an account for them to access its services. Therefore, Turnitin will not allow clients' papers to be accessed freely by the public.
Therefore, SafeAssign cannot detect them. You can read more on how SafeAssign detects previously submitted papers by other students. This will shed more light.
2. ProQuest ABI/Inform database
The database contains more than 2.6 million articles from the 1990s to present, and about 1,100 titles of publication. It is an exclusive source that is updated weekly.
The most important thing to note is that this database is exclusive and Turnitin has no right to submit student's papers to the database.
Therefore, papers that have been submitted through Turnitin will not be available within this database unless they are submitted to it by the student. In this case, SafeAssign cannot be able to access papers from Turnitin through this channel.
3. Archives from institutional documents
This database contains the various works of students that have been submitted in the past by institutions belonging to the SafeAssign blackboard. Therefore, your SafeAssign report might match other students' papers if they have similar text or if you copied.
You should note that this database only contains papers submitted to SafeAssign and not Turnitin. Therefore, there is no possibility of accessing papers from Turnitin's database.
4. Global Reference Database
This is comprised of papers and other forms of academic works such as books that have been volunteered by the original authors such as students.
Such papers or works are supposed to help mitigate cross-institutional plagiarism. Those papers are from Blackboard clients and therefore papers submitted through Turnitin cannot be detected here.
From the examples, you can see what we have discussed by looking at the various databases used by SafeAssign and how they work concerning the accessibility of previously submitted papers.
Therefore, we can surmise that SafeAssign cannot detect papers that have been submitted through Turnitin. It cannot detect papers from the tool because the two do not share the same database. 
Can Blackboard's SafeAssign Detect Papers from Turnitin?
SafeAssign cannot detect papers from plagiarism-checking tools such as Turnitin unless if a paper that had previously been submitted through Turnitin has been released into other internet sources and databases that SafeAssign can access.
Since the two plagiarism-checking tools have different databases, it would be difficult for SafeAssign to detect papers that have been recently submitted to Turnitin directly.
One of the commonly used plagiarism checkers is SafeAssign. It is a tool used to prevent plagiarism by detecting unoriginal content through the identification of areas of overlap between existing works and the submitted assignments.
Can Blackboard SafeAssign be wrong?
Just like any other person reading this article, you may be questioning the effectiveness of SafeAssign, especially when we have noted that it is hard for the plagiarism-checking tool to detect papers from Turnitin.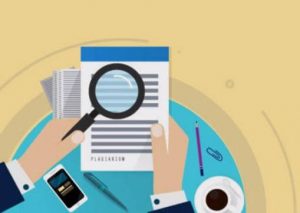 Well, to clarify your worries, both tools are used to check for plagiarism, and they belong to different companies that are competing for similar clients within the same industry.
They both find no need to check each other's databases since both of them serve the same purpose.
However, this creates a loophole where students can resubmit papers. But Blackboard solves this through SafeAssign systems that detect copy and paste for the uploaded papers.
In fact, when it comes to cross-checking matching content from other databases, there are advantages of SafeAssign that makes it right.
Though this is the case, we should always conduct a thorough review of plagiarism analysis after they are received.
One way to do this is to delete the highlights indicating the matching scores and resubmit the paper. This will enable the algorithm to run the exercise again and remove the error. Therefore, SafeAssign can be regarded as an effective tool that provides believable results.
How accurate is SafeAssign?
Apart from the fact that SafeAssign is unable to detect papers that have been recently submitted to Turnitin, SafeAssign can be regarded as an accurate plagiarism-detecting tool. Blackboard detects copy and paste by using databases such as Archives from institutional documents.
SafeAssign is very accurate in detecting plagiarism by highlighting the copy-pasted content and showing their original sources. This is because SafeAssign uses multiple databases to compare the matching content from your assigned papers to those that have been previously submitted or to the existing works.
As aforementioned, the databases are Global Reference Database, the Internet, and ProQuest ABI/Inform database. Those SafeAssign databases contain millions of previously submitted and existing works that makes it foolproof.
After submitting your paper for checking, SafeAssign will send you a report containing highlights and percentages. Those highlights vary in color to indicate the level of matching content from particular sources.
After counterchecking this, you will be surprised that the level of accuracy is high because it will pinpoint exactly where the matching text is within a particular source. It will march those highlights with outside sources. The percentages indicate the intensity of plagiarism.
A low percentage indicates minimal to no plagiarism while a high percentage indicates extreme plagiarism. Those results are accurate and believable.
How long does SafeAssign Take to check and Report?
Ideally,  SageAssign takes from a few minutes to around 30 minutes to scan your paper and process a similarity scan after uploading. However, the process can take longer during high semester seasons when the traffic is high, and many students are uploading their papers. Therefore, give it some time when you submit your assignments through SafeAssign.
As you may be aware, there are times within the semester when your instructor gives you several assignments to be completed within a short duration.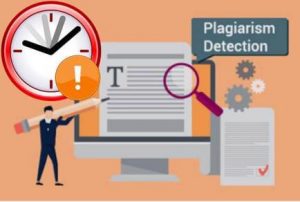 This is especially during the middle and the end of the semester. This case applies to several other students within different institutions.
In some cases, the report is provided after a few minutes. It normally takes between 1 to 3 minutes.
However, always bear in mind that this is not always the case during the semester.
Those students are also submitting their papers through SafeAssign which overwhelms the system.
This is the time when plagiarism reports from SafeAssign are in high demand.
During such time, you should expect report delays of between 24 and 36 hours. However, when there is low demand because fewer students are submitting their papers, then you will get a report faster.
What you should note here is that you should NOT resubmit your papers during the high-demand period. The SafeAssign tool organizes the submission queue on a first-come-first-serve basis.
Therefore, if you resubmit your paper, it will automatically be taken to the back of the submission queue. Instructors should also discourage students from resubmitting their work during high demand because it will take longer to receive the plagiarism report. 
Conclusion
In summary, SafeAssign is an effective tool that enables Blackboard to detect any copy-and-paste or unoriginal work in students' papers. While SafeAssign takes long, from a few minutes to 30 minutes, it is worth the wait, even if it takes more hours.
Basically, SafeAssign can also be used to help learners accurately attribute outside sources. This makes SafeAssign a very important academic tool.
I hope in this post, we gave you the answers to some of the commonly asked questions concerning SafeAssign. 
Watch how to use SafeAssign well,