Many institutions of higher learning like colleges and universities will require students to submit their assignments through plagiarism checking tools such as SafeAssign. Some check scan and SafeAssign report says their papers are matching other students.
What could be the reason? In this guide, we explore this issue based on the wisdom we got from our experienced homework writers who work 24/7 to help customer score good grades.

This tool is meant to prevent academic cheating by detecting and flagging similarities between the paper you have submitted through it and other papers within its database.
SafeAssign utilizes a similarity score to determine the level at which your paper has been plagiarized.
What it does is matching your text to other texts from its database. The database can contain other students' papers, research papers, library sources, and so on.
However, many students do not know why their SafeAssign is matching another student's paper. The next section will explore the most probable reasons why this happens.
Why your SafeAssign report matching another student's paper
1. Scanning the References page
References are one of the main reasons why your SafeAssign is matching another student's paper. I know you may be wondering why this is so when references should be formatted similarly.
Well, the reason why this happens is that SafeAssign will also scan your reference page. The tool scans the whole paper to ensure that there is no text similarity between your paper and other papers that have been submitted.
There are times when your paper may contain similar references to another student's paper. In such a case, your paper will match and it will be flagged.
However, it should be noted that when your paper matches another student's paper due to references, it is not considered plagiarism or an academic violation.
What you should do is notify your instructor or not to scan the reference page in SafeAssign.
2. Matching of a few long names
This is also a major reason why your SafeAssign is matching another student's paper. The reason why this happens is that SafeAssign has been designed to detect matching texts.
If you have a few long names, they will be considered text and if the same long names appear on another student's paper, your paper will be matched to that paper.
In most cases, similarity or plagiarism checking tools will match a maximum of 3 to 4 words within a sentence. This is SafeAssign detects any copy-pasting, whether intentional or accidental.
If you use long names with more than 3 words, then your paper may match with another student's paper if they have used the same words.
3. Matching Long institutional names
As aforementioned, SafeAssign has been designed to detect similarities within the text. When more than 3 words that follow each other within a sentence are matched with text from another student's paper, then the paper can be regarded as plagiarized.
This applies to long institutional names that may appear within several students' papers. And because SafeAssign checks previously submitted papers, it will show any match between your paper and other students' files.
For example, if students from a particular institution with a long name are to submit their papers through SafeAssign, then the tool will match the institutional names and consider the papers plagiarized.
However, this should not worry you because it is not plagiarism in the real sense.
4. Use of Direct quotes
This is a major reason why your paper will be matched to another student when submitted through SafeAssign.

Having direct quotes within your paper and not citing them appropriately is a sure way of having your paper matched to the actual source of the quote. 
To avoid being matched, it is important to appropriately cite the direct quotes using in-text citation.
At the same time, you are required to italicize the quotation and put them in quotation marks ("…"). This will ensure that your paper is not matched to the source of the text.
How to handle your paper matching another student's paper
1. Study the report
You should always study SafeAssign's similarity score to determine whether the parts that have been highlighted are indeed plagiarized.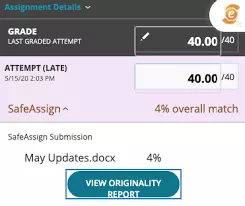 As aforementioned, some long words can be used in different papers and they can be flagged as plagiarized works.
Though this is the case, it should not be treated as plagiarism in reality.
This is the reason why it is imperative to study the report so that you can consult your instructor and notify them that the matching text has not been plagiarized.
On the other hand, you should study the report so that you can paraphrase or rewrite the matching areas. This will remove any plagiarism from your paper.
2. Contact the teacher
This is always recommended when your paper matches another student's paper and it is not a case of plagiarism.
Papers can match on SafeAssign due to reasons like long institutional names, long names, and references. In such a situation, you cannot rewrite or paraphrase such text because it should remain in its original form.
This is why you should contact your teacher so that they can advise you on the way forward, at the same time, you can explain to them why the paper has matching text using evidence. Your teacher will understand the situation.
3. Paraphrase the matching text
This is the most pragmatic way of handling a paper that matches another student's paper.
After going through the SafeAssign report, you should take note of the parts that match and then paraphrase them.
This will change the sentence structure and therefore make your work unique.
4. Check plagiarism score before submitting
You should always check the plagiarism score before submitting it to ensure that your paper does not exceed the minimum score.
For example, some institutions and instructors will accept submissions with a score of not more than 5%. Others will be lenient and accept submissions that do not exceed 25%.
Once you check the plagiarism score, determine whether your paper's score is within the limit. If it exceeds the limit, you can remove plagiarism by paraphrasing or rewriting the matching parts.
How to prevent plagiarism and papers matching another student's paper
1. Hire an expert writer
Expert or professional writers have the skills and experience to write plagiarism-free papers that do not match other students' papers.
If you need to prevent plagiarism, you should hire an expert writer from essay writing service providers.
2. Paraphrase contents you copy
You should always paraphrase any work that you use for content in your paper. If you copy-paste another paper's content, then it will be considered a plagiarism case. Paraphrasing is reading something and writing it in your words.
3. Avoid copying online content
Online content will always be visible to SafeAssign when scanning for similarity. Therefore, avoid copying online content because it will be matched.
At the same time, some websites may contain papers that are similar to your paper. In some cases, students will be tempted to copy the papers and submit them as their own. Avoid such online content.
4. Cite and reference your sources
Always cite the content that is not common knowledge or your own using in-text citation to avoid playgirls a situation where your paper matches another student's paper.
If you cite the source, make sure that you also reference the citation at the end of the paper.
5. Copy points only, not text
You should only copy the points that have been presented and rewrite or paraphrase them using your words.
Do not copy the text that makes the points. If you copy the text, your paper will be plagiarized.
6. Write from scratch
You should always train yourself to write from scratch instead of copy-pasting some parts of your paper.
If you write from scratch, there is a high probability that your paper will not have any text that matches with another student's paper.
Why does SafeAssign highlight my references?
Safeassign highlights your references because other student's papers have also used the same references. It is not an academic crime to use similar references from peer-reviewed sources. Even if SafeAssign highlights your references, it should not worry you because references are there to be used by all students. Such highlights should be omitted or disregarded.