Before handing in an assignment, you might need to know what level of plagiarism it has. Today, we seek to explain how to check for plagiarism and get a similarity score before submitting your final paper for grading through Turnitin or any other assignment submission platform.
This allows you to correct any mistakes. Read on for 7 ways to achieve this. But if you need professional help, buy plagiarism-free essays from us, and you will not be disappointed.

Turnitin is an online service that is used to prevent plagiarism by verifying your submitted papers' similarity against Turnitin's database, which comprises websites, journal articles, books, and students' papers that have been previously submitted via the service.
How to Check similarity on Turnitin before submitting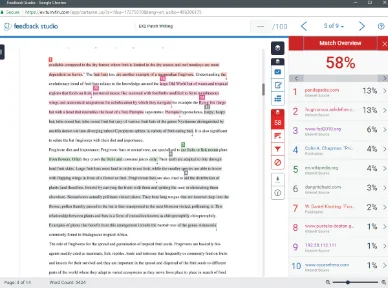 To check the similarity score before submitting your paper through Turnitin, you can use Turnitin's self-checker and scan your drafts for plagiarism via its Feedback Studio.
Better yet, you can use other plagiarism scanners as alternatives.
The best Turnitin alternatives include Grammarly, PlagScan, Duplichecker, PlagiarismDetector, Bibme, and Small Seo Tools.
By checking for plagiarism on your own, you are able to build some confidence that you are not committing any dishonesty in school. And you submit a clean paper.
To most students these days, checking plagiarism is one of the ways to plagiarize and get away with plagiarism by correcting the copied parts.
There are several methods to do that. Let us discuss each of these self-check methods in detail.
1. Use Turnitin Self Checker
It should be noted that self-checker or Turnitin Self-Check is the main method used to check similarity on Turnitin before submitting your papers via its Feedback Studio tool. This is a very important service because it will allow you to run your papers through Turnitin before submitting them to your instructors.
Turnitin Feedback Studio allows you to check your work at your convenience and rectify any mistakes or similarities. Turnitin Self-Check, or the self-enroll site, will also allow you to check for proper citations and grammatical errors. In other words, the site can be very useful.
You may be wondering how to use Turnitin's Self-Check service. Well, to access the Originality Self-Check in Turnitin, you will first self-enroll on the site.
This site is housed within the Collaborative Learning Environment (CLE). It is only when you self-enroll that you will be able to use Turnitin Self-Check. Below are instructions on how to self-enroll.
How to Enroll and use Feedback Studio to Self-check
First, visit the Collaborative Learning Environment and navigate through it to log in or sign up.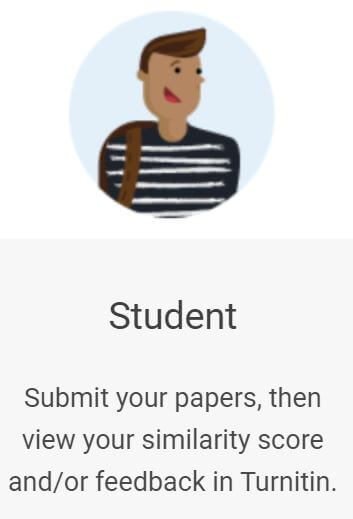 If you already have an account in CLE, you can easily log in by clicking the button located at the top-right corner of the webpage.
You should then fill in your "MyAccess" credentials to log in.
When you have successfully logged in, proceed to search Turnitin Originality Self-Check within the block for searching courses.
If you have followed the instructions correctly, the self-enrollment page should appear.
Within the self-enrollment page, you should see a heading titled "Turnitin Originality Self-Check," followed by the "Self-enrollment" option for students.
Below it, you should see a blue button tagged "Enroll me."
Click on it to self-enroll to Turnitin Self-Check. From then, you will be required to create an assignment folder for Self-Check.
Through the folder, you can submit your papers several times, preview them, and make adjustments based on the originality report before submitting the final paper to the assignment folder for final grading.
How to use Turnitin self checker
To create the Self-Check Assignment folder that allows you to check similarity on Turnitin before submitting the final paper, click on Assignments and then create "New Assignment." You should then name the folder.
Please note that this will be the folder that will enable you to Self-Check before submitting your work. While on the page, scroll down and allow Unlimited Submissions. You should also ensure that all submissions are kept by allowing this option.
Navigate to the Restrictions tab to select the beginning and end date for your multiple submissions. This should be the beginning of your course to the end (probably a semester). Then navigate to the Turnitin tab to enable both GradeMark and Originality Check.
You should also allow the option tagged "Allow learners to see Turnitin similarity scores in their submission folder". Then proceed to click more options for Turnitin.
After doing so, click on optional settings. Within the submission settings, select the option NOT to store your submitted papers. Under the similarity report option to generate reports for students' submissions, please select the option tagged "generate report immediately".
This is where students can resubmit their papers before the deadline. Click submit, then save and close. If you follow those instructions correctly, you will be able to use Turnitin Self-Check to check the similarity before submitting it.
2. Use PlagScan to detect before submission
PlagScan is the second option you can use to check similarity before submitting your final paper via Turnitin. PlagScan is a different service that helps prevent plagiarism.
Therefore, you should have a PlagScan account before using its services. Within PlagScan's website, you will be given the option to register or sign up. Since you will probably register as an individual user, you will be given test credits for registration.

Once you are done with the registration process, you can proceed to upload your document to check for similarities and other errors.
To upload your document, you should click the option tagged "Upload Documents," and you will be directed to the folders within your computer.
Select the folder containing the desired file and click on the actual file to upload. Press and hold the CTRL button on your keyboard to upload multiple files while selecting them. For all files, press CTRL+A.
Once uploaded, commence the plagiarism scan by clicking the button tagged "Start check". The time it takes to complete the scan depends on file size.
For smaller files, it only takes a few minutes. You can repeat submissions until you are satisfied with the final draft. From then, you can submit your paper via Turnitin's assignment folder for grading.
3. DupliChecker to check Plagiarism before submission
DupliChecker is the other method used to check for similarity before submitting your final papers through Turnitin for final grading.
This is a free plagiarism prevention service that is available 24/7. Since it is free and available all the time, it can be run on any internet-enabled device whenever needed.
To use this service to check for similarity, you do not need an account because it is free. You just need to visit DupliChecker.com. This is where you will copy and paste the text from your document to the search box located at the top of the webpage.
It should be noted that the service will only allow a maximum of 1000 words for every search. The second option is to upload your text, txt, doc, Docx, ODT, pdf, or RTF by using the "Choose File" button.
Once uploaded, click on the button tagged "Check Plagiarism." Once your file is submitted, the results will be sent back in a few seconds.
If there are any similarities, the service will display the results as percentages of meaning, plagiarism, uniqueness, and the relevant text and its origins.
The red color represents plagiarism, yellow uniqueness, and green related meaning. If there is plagiarism, you can use the "Paraphrasing tool" to make it unique.
4. Small SEO Tools to self-check
Small SEO Tools is another tool or service used to check similarity before submitting papers through Turnitin. It is also a free plagiarism prevention tool that does not require any subscription fee.
To use the service, you will visit the SmallSEOTools website. You will find a highlighted box in which you will paste the text you have copied from your document.
You can also upload a file from your computer, Dropbox, or Google Drive. The supported file types include txt, Doc, Docx, and RTF. There is also an option for checking for similarity via the webpage URL.
To check for similarity, click the button tagged "Check Plagiarism". The results will be sent shortly. Once you have revised your paper accordingly, you can submit it as a final paper through Turnitin.
5. Using Grammarly to self-check Turnitin score
Grammarly is yet another method to check similarity before submitting your papers via Turnitin. It is a premium plagiarism-checking service that pinpoints texts that have been plagiarized while delivering their origin.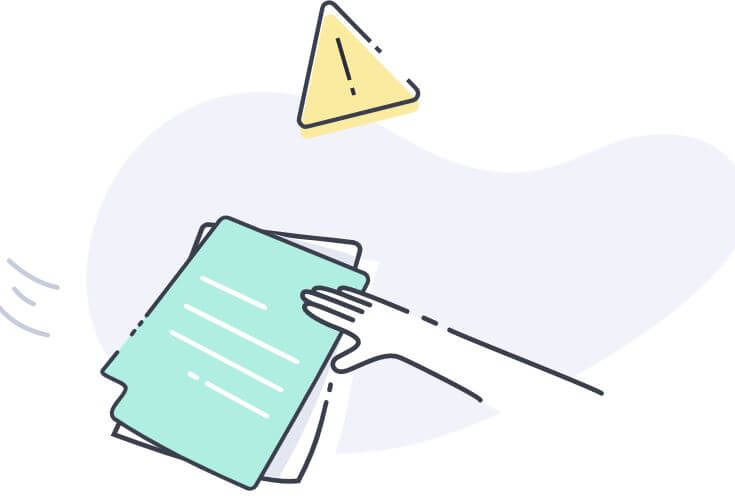 It also provides an authenticity score, comprehensive corrections to mistakes, and writing feedback.
You can use Grammarly through your browser interface or Grammarly for MS Office.
To use either of the Grammarly options, you should have an active account. There are account plans, both free and premium plans.
The free plan has limited options and capabilities, while a premium plan (paid plan) will enable you to access the Grammarly Plagiarism Checker, which is their website.
To scan for similarity using the browser interface of Grammarly, you should first login to your account.
In addition, you can then upload the file or copy-paste your paper by clicking the upload button. You can edit the paper to minimize similarity. Once satisfied, you can submit your final paper via Turnitin.
6. Plagiarism Detector for Self Check
This is also a free plagiarism-checking service that comes with both paraphrasing and grammar-checking tools. Since the service is free, you may not be required to have an account unless you want to use the Pro service.
Once on the Plagiarismdetector.net website, you will find a highlighted box at the top of the site in which you are required to paste the text you have copied from your document.
The maximum amount of words that can be pasted into the box is 1000 at a time. Then click "Check Plagiarism". Thereafter, you can submit the plagiarism-free work via Turnitin.
7. BibMe for plagiarism self-check
BibMe is a Chegg service that can be used to check for similarity before submitting your paper via Turnitin. To use the service, you should first visit the Bibme writing website.
You will then find a highlighted tagged "paste paper". There, you can copy and paste your paper within the box and then click "Check my paper".
In addition, you can also import your paper from the computer or google drive. When the paper is free from similarities, you can submit it via Turnitin as a final copy.
Conclusion
As we noted in another post, plagiarism is not a crime, but it can lead to academic integrity penalties if you commit it in school. Therefore, it is important to avoid it by checking similarity scores by yourself.
As we have seen now, there are several ways you can check similarities on Turnitin before submitting your paper. Any of the 7 ways can be effective to check similarity as perfect Turnitin alternatives.
While Turnitin Feedback Studio Self-Check is the main method and it is part of its services, other services can be used to check similarity.
It should be noted that these alternatives can be checked whether you will upload your work into Turnitin or SafeAssign. Talking of SafeAssign, I must note that it is an alternative, but it can only be accessed through the institution.