Mental illnesses are common. Over half of Americans are diagnosed with a mental disorder during their life. Mental illnesses are disorders that affect a person's thinking, mood, feelings, and behavior.
The diseases may be occasional or chronic. They can affect the patient's ability to relate to others and their daily functions.

Obsessive-compulsive disorder (OCD) is increasingly gaining recognition in recent years. As more people become aware of the psychological illness, the affected are increasingly inclined to seek care.
A person diagnosed with OCD is likely to find it challenging to cope with their symptoms and lead a regular life. It can be very challenging to Stop or cope with obsessive thinking and manage compulsion.
What is OCD
OCD is a mental health condition that affects people of all backgrounds and ages, including children and the elderly. It is characterized by unpleasant thoughts, anxieties, or obsessions that result in compulsions or repetitive activities.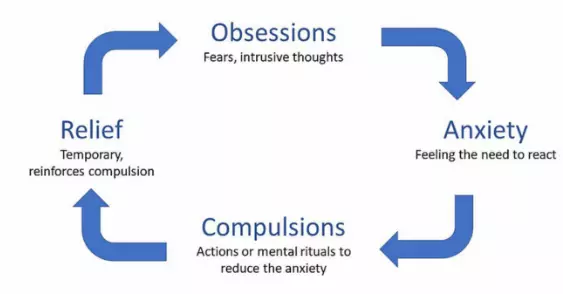 Obsessions and compulsions create severe distress by interfering with daily activities.
When OCD develops, the person becomes trapped in a loop of obsessions and compulsions.
Obsessions are unwelcome, intrusive thoughts, ideas, or desires that cause severe distress.
Compulsions are acts that a person engages in to banish obsessions or reduce distress.
The person recognizes that their compulsions are absurd and unreasonable. Yet, they refuse to give up because they fear the repercussions.
How to Write a College Essay on OCD
Writing a college essay on OCD involves:
1. Starting with a Plan
The initial step in any essay should be to create a documented plan. Start formulating a plan as soon as you receive your OCD essay question and give it some attention.
2. Initiating your Research
After considering the question and establishing an initial approach, gather information and evidence.
3. Create a Point of Contention
Every good OCD essay has a strong and well-supported argument. Contention refers to your essay's core topic or argument. It serves as both a response to the query and a focal point for your writing.
4. Outline your Essay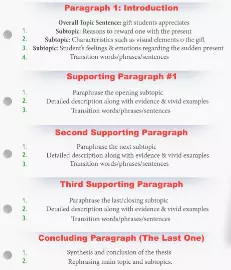 Start penning down a possible essay format once you have completed most of your research and have a strong argument. This doesn't have to be complicated.
A simple outline will do.
5. Create a Captivating Introduction
The introduction is the pivot of your essay. It is also where you give an overview of your work. Have a short, confident, and punchy introduction.
It is essential because it is the reader's initial experience with your writing. It is also your first answer to the question and explanation of your viewpoint.
6. Compose Complete Paragraphs
Write 100 to 200-word long paragraphs that are mini-essays in themselves. Avoid the mistake many students make of writing short, one- or two-line paragraphs.
7. Conclude with a Strong Statement
Restate or emphasize your essay's main point in the last paragraph of your essay. Aim for a solid, polished, and smooth ending.
8. Cite and Reference your Sources
Use Citations or references to credible sources to back up the facts, ideas, and arguments in your essay. This is one of the ways to avoid plagiarism in your essay.
9. Proofread, Edit, and get Feedback
Proofread, edit, and redraft your essay, if necessary, before sending it for evaluation.        
OCD is a well-researched subject. There aren't a lot of new studies that you can include in your OCD essay. As a result, you can use the following plan to organize your OCD essay.
1st point in OCD essay
You can describe how OCD develops. According to scientists, psychological and biological variables are thought to induce OCD.
OCD Essay Point 2
Then, in your essay about OCD, discuss the disorder's symptoms. Focus on Obsessions or intrusive thoughts, and compulsions. Compulsions are mental acts or compulsive behaviors that a person feels compelled to engage in owing to an obsession.
Usually, the practices help lessen or prevent pain due to an obsession. Common compulsions include:
Repeated cleaning of household items
Counting to a specific number repeatedly
Seeking acceptance or reassurance all the time
Putting items in a particular order or arrangement
Checking switches, locks, or appliances regularly
Ritualized or excessive hand washing, tooth brushing, showering, or toileting
OCD Essay Point 3
Finally, discuss OCD treatment options, including pharmacological, behavioral, and cognitive approaches. A patient can concentrate on learning to manage symptoms under the supervision of a skilled therapist and through behavioral therapy.
Explain that a person can learn to effectively manage symptoms and regain function in their lives if they are committed to this treatment.
If you find this method for writing an OCD essay to be too broad, your essay could narrow your focus on symptoms, for example. You can explain how obsessions influence a person in your OCD essay.
Also, you could discuss the typical items that people are obsessed with, the negative repercussions of compulsions, and so on.
Besides, you can interview someone with OCD to make your essay more informative and engaging. Remember that it takes up a lot of time in a person's life and creates significant impairment.
Also, keep in mind that patients can get help irrespective of their ideas and behaviors or the severity of their symptoms.
Best Sources for Your References on OCD Essay
OCD-related organizations and resources include:
Mental Health America
International OCD Foundation
National Alliance on Mental Illness
Anxiety Disorders Association of America
National Institute on Mental Health. OCD
The American Psychiatric Association (APA)
The Top 100 Cited Articles on Obsessive-Compulsive Disorder
OCD – MedlinePlus https://medlineplus.gov
OCD – NCBI https://www.ncbi.nlm.nih.gov › books ›
9 Examples of OCD Essay Topics
Obsessive-Compulsive Disorder essay topic examples include:

OCD In Children
Living with Obsessive Compulsive Disorder
OCD- Psychiatric Disease
Research on Obsessive Compulsive Disorder
OCD: Causes and Treatment
Obsessive-Compulsive Disorder in The Aviator
Outline and Evaluate Psychological Explanations For OCD
Clinical Psychology OCD treatment and approaches
Outline and evaluate Two Biological Explanations for OCD
Other Info on OCD in School
Many people who do not have OCD also experience troubling thoughts or actions. However, these thoughts and habits rarely cause problems in everyday life.
OCD patients have persistent thoughts and strict habits. Failure to engage in the behaviors creates a lot of distress. Many people with OCD are aware or suspect that their obsessions are irrational or unreal.
Ignoring Compulsions can lead to severe manic episodes. Students with OCD may find it difficult to concentrate in class or finish projects.
They feel compelled to undertake routines such as hand washing, rewriting sentences, or reorganizing notes. Intrusive thoughts can be both distracting and disturbing to the learning process.
Others may believe they are, which is known as limited insight. People with OCD have a hard time disengaging from their obsessive thoughts or stopping their compulsive behaviors.
It persists even when they are aware that their obsessions are unrealistic. In the United States, OCD affects two to three percent of the population. It is slightly more prevalent in women than men.
Typically, OCD starts in infancy, adolescence, or early adulthood. The average age of onset is 19 years old. An OCD diagnosis requires obsessions and compulsions that last more than one hour a day.
These cause significant discomfort and interfere with work or social functioning.
Obsessions are recurring and persistent ideas, impulses, or pictures that elicit unpleasant emotions like worry or revulsion. Many people with OCD are aware that their thoughts, impulses, or images are excessive or irrational.
However, logic and reasoning will not be able to alleviate the anguish caused by these unwanted thoughts. Most OCD patients try to distract themselves from the obsessions by performing compulsions, or suppressing or ignoring the obsessions.